The earliest recorded Taylor, so far, is Samuel born in 1815. The family, however, has connections to various other families, including the Boults, Farrants, Hurved and Ewings. Some of these families I have traced back to the early 1700s. For the sake of clarity, the rest of this web page will discuss the Taylor family in chronological sequence.
---
First Generation
Our story begins the with Samuel Taylor, the year that the British defeated Napoleon at Waterloo. Samuel was born on November 15th, 1815 in Birmingham. At this stage we havenít identified his parents or where they lived. At the age of 19, Samuel was living in Tipton, Staffs. where he married Mary Kimberley (born in Bilston, Staffs. May 7th, 1812). Samuel was a fire iron maker by trade.
By 1851 the Census shows the family living at 5 Darwen St, Aston.
---
Second Generation
Samuel and Mary had seven children, William born in 1834, Eliza in 1837, Mary in 1838, Samuel in 1840, Martha in 1843, Henry in 1847, and Stephen in 1849. The family had moved in to Birmingham, (known as the workshop of England) and were living in the Parish of St Martinís.
Little is known of this generation other than Samuel. Certainly by 1851 it is clear that Eliza and Mary, who would have been 14 and 13 respectively, are no longer in the family home, and one assumes that they may have died as children. William was working as a turner, as was Samuel.
On May 7th 1860 at the age of 20, Samuel married Ann Stevens in the Parish Church of St Paulís, Kings Norton. Ann was born in Birmingham in 1841, the daughter of Richard Stevens, a brass founder. Samuelís brother William and Annís mother (also Ann) were witnesses at the wedding. It is evident from the marriage certificate that the Taylors had some degree of education being able to sign their names. Ann and her mother, on the other hand, were illiterate leaving their mark rather than a signature.
Samuel and Ann lived in Bordesley, Warwickshire (now a part of Birmingham) where Samuel was a Gold Beater and Ann an umbrella maker. They had an extensive family of 13 children.
---
Third Generation
Samuel and Annís children were Henry (1860), William (1862), Benjeman (1864), Richard Ambrose (1866), Emma (1868), Samuel (1870), Frederick (1871), Minnie (1872), Mary Ann (1874), Steven (1878), Albert Victor (1880), Samuel Henry (1882), and John Ernest Victor (1884). The older children were born in and around Birmingham. It was obvious that the family moved about, maybe as a result of Samuelís work. In 1872, when Minnie was born, they were in London. In 1874, when Mary Ann was born, they were in Liverpool. Four years later they were back in Birmingham, and then in 1880 they were living in St Pancras.
The 1881 census reveals that they were living at 54a Red Hill Street, St Pancras. Only six of the children were with them. William (18) and Richard (15) were working as mount cutters, Minnie and Mary Ann were at school, Stephen and Albert were still infants. It is possible that Henry, at 21, had already left home. One must assume, however, that the other children who were not recorded on the census return, had died.
While they were living in London, William met Ellen Louise Hughes. They married in 1884 at St Markís Church, North Kensington. We have little further information regarding William and Ellen.
Richard Ambrose met Phoebe Ayton and they married in 1888.

They had been living at 3 Craven Yard, in Drury Lane. (There have been some stories in the family that Phoebe was from Edinburgh, this is incorrect. In the census returns, she clearly identifies her place of birth as Vauxhall Bridge Road).

They lived in the Grayís Inn registration district of London.

Like his father, Richard had an extensive family. (What I know of the children I will discuss in the next section). The family stayed in London, moving to Willesden at some point. At the time of the 1901 Census they were living at 51 Queens Road in the Parish of St Michael at Willesden.

Then some time after 1907, they moved to Devon, setting up house in the St Thomas district of Exeter.

Throughout the seventeenth century Drury Lane had been a reasonably fashionable thoroughfare. Drury's House stood at the junction of the junction with Wych Street, a narrow road that ran south-east towards the Strand. (All of this has disappeared since the development of the Aldwych).

Drury House was rebuilt in the 1620s by Sir William Craven and renamed Craven House. The grounds on the east side of Drury Lane were developed for poor class housing in 1723. Craven Yard was part of this development. The old mansion let out into tenements and later redeveloped as the Olympic Theatre.
They moved several times living at 8 Cotfield Road, 19 Alphington Street, and 8 Park Street (which was later renamed 43 Hamlyn Lane). The family ran a picture framing business from a shop in Alphington Street.
Richard died in March 1946 from heart disease at the age of 79. Phoebe lived on to the age of 92, but as yet we havenít discovered exactly when she died.
---
William and Ellen had two children Mary Theresa (1885) and Anne Louise (1887). That, however, is the extent of my knowledge of William and Ellen and her daughters.
Richard and Phoebe had eleven children. Unfortunately we donít have details of all of the birth dates so may list them out of sequence. The children were Thomas (1890) Minnie, Charles (born 1894), William (1896), Walter, Fred, Florence, Laura, Ralph (1909), Rosalind Ethel, Ronald, and Richard. In addition to her own children, Phoebe also raised the twin sons of her brother, Albert Victor Ayton. We understand that their mother, Amy Florence, died in childbirth. The boys were named William Charles Ayton and George Ayton.
Minnie married Jack Fitt. Jack was a policeman, rising to Police Superintendent at Scotland Yard. Minnie and Jack had one child, William. We believe that the family lived in Seaford, near Brighton.
At some point in the few years after the family moved to Devon. Charles, while playing fell from an upstairs window though a glass conservatory roof and severely damaged his knee. The knee was repaired with a large metal staple, but Charles was lame for the rest of his life. This injury kept him from military service during the wars.
In 1922 at the age of 28 with the family still living at 19 Alphington Street, St Thomasí, Charles was working as a Journeyman Picture Frame Maker. He met Minnie Boult and married her in the Exeter Register Office. (See the later section where I discuss the Boult family).
They had four children. Minnie was taken ill and went to a sanatorium where she declined and at the age of 37 unfortunately Minnie died of tuberculosis in March 1937 leaving Charles with a young family. Minnie was buried at Exeter Higher Cemetery.
After Minnie died, Charles moved to London in 1938 as the work prospects around Exeter were poor. Up until then he had shared the business with his brothers framing pictures. The family business was "Taylor Bros., Picture Frame Makers and Gilders, Mount Cutters and Fine Art Dealers" of 34 Alphington Street, Exeter.
When he moved to London, the family took a house in Chesterfield Gardens, Harringay. He got a job with Medici Galleries. Charles married again marrying Rose Burbage. However, the marriage didnít last and Rose left (with her daughter Joyce) early one morning and there was little or no contact after that. The family moved to Conningsby Avenue. It was a large house and daughter Phyllis and her husband Richard, and daughter Beryl with her husband Bert and two elder children all lived there together.
In September 1958 Charles moved in to a new house in Meadow Way, Potters Bar with his son Charlie, daughter Phyllis and her husband Richard.
The family was preparing a big get together to celebrate his 90th birthday, but unfortunately, on 30th May 1984 he died.
The event went ahead, however, and has been held almost every year since.
The twin sons of Phoebeís brother joined the Navy and went down with Lord Kitchener on HMS Hampshire.
Florence married Frederick Bowden. They lived in Kinkerswell in Devon. They had one child, Joyce.
William, one of the eldest joined the Somerset Cyclist Battalion (8th Bn., Somerset Light Infantry) as a Private (serial number 30053). Some of the postcards he sent during his training have survived. Based on the cards, he evidently was posted to Woolwich until he passed his exams and from there spent time in Essex. By 1915 he was posted to Paignton. Before shipping out to the front he spent some time in Lydd in Kent. We canít be sure when he joined the British Expeditionary Force at the front, but do know that he was killed at Passchendaele in Belgium in October 1917. William has no known grave, but is commemorated among the missing on the Tyne Cot Memorial in Zonnebeke, West-Vlaanderen, Belgium.
Richard, known as Dick, who had emigrated to Canada, came back and joined the Devonshire Yeomanry, fought with Allenby, and though wounded twice fighting the Turks, survived the war.
Richard married May in Exeter Cathedral. They had two children, Patrick and Jock. Richard died at St Thomasí, Exeter in about 1975.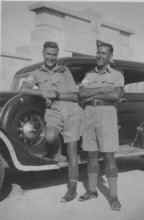 (Ron & Ralph Taylor)
Ralph married Kath. He served in the army during the Second World War. He later wrote a poignant article on the story of the Taylor Family during the wars. I have part of the transcript, but one page is missing. I believe it was published in the British Legion news letter. An extract of the letter explains some of Ralphís thoughts.
"I have been a Legion member, served as Branch Secretary for many years, Legion Journal Secretary, Welfare Officer and Poppy Appeal Fund Collector. Enjoyed all these and years, attending many Conferences, Group, County and National, also many Rallies. And feel proud to have been a member of the Armed Services. My precious treasure was being presented with the Gold Badge.

The vivid memories of my War Service was, first, stationed in Whitby, Yorkshire, seeing a convoy steaming through the North Sea with three German bombers bombing the ships with great splashes of water, and when the sea had died down the ships ploughing their way along unharmed with the bombers flying off as soon as some Spitfires appeared.

The second sight was standing near our billet, the Royal Hotel, Whitby, when a German spy plane came over the town, with two Spitfires just behind it, and on each side pumping tracers into it. It fell just outside Whitby.

My third memory now, posted to Putney, London and billeted with the Home Guard in Putney High School, during the worst bombing ever had, the Battle of Britain August-September 1940, when at night the East End of London, was just a huge red glow, and the German bomber plain as daylight shooting down the barrage balloons, with very little opposition.

My fourth memory, was seeing both crews of the cruisers Cornwall and Dorsetshire all lined up on the decks in their white uniforms who had protected the convoy right up to the Red Sea with their Aldis lamps flashing out the signals, "good luck and good hunting," before leaving.

My fifth memory, was being there and seeing the terrific artillery barrage with the sky all along the front being lit up with daylight starting around 9.40 pm. and lasting towards 3 am. zero hour, before the battle of Alamein started.

My sixth memory was after the battle of Alamein when the Germans broke, was seeing as far as the eye could see across the desert just as a black mass of Italian prisoners. Thousand and thousand of them.

My seventh memory was climbing to the top of Cologne Cathedral, Germany, and looking as far as the eye could see up the River Rhine either side, the desolation was terrible nothing standing, the work the bombers had done."
(For the full transcript, follow this link)
Ralph and Kath had 4 children Anthony, Eileen, Rita, and Norman.
Ralph died in Starcross, Devon in about 1990.
Fred married Violet. Fred was a Railway Steward. They had three children Betty, Carol and a son whose name I donít know.
Laura married Leslie George Robinson (known as "Rob") on September 4th, 1931 at Exeter Register Office. Laura had been working as a waitress, and was living at 64 Victoria Street, Exeter. Leslie was a Lance Sergeant in the Royal Artillery, based at the Shrapnell Barracks, Woolwich. They lived at Countess Weir in Devon. They had six children Sheila, Richard, Clive, Michael, David, and Peter.
Ronald married Betty. They had two children, one of which was Ann. Ron served in the Army during the Second World War. They lived in Paignton.
Rosalind Ethel married Ray Hosgrove. They had two children.
Walter never married, he died soon after the end of the First World War.
Phoebe's brother's boys both joined the Royal Navy and were lost in action during the First World War. William Charles Ayton was Stoker 1st Class (serial no. K/20040) on H.M.S. Turbulent and died on 1st June 1916 aged 21. He is remembered on the Chatham Naval Memorial. George was an Ordinary Seaman (serial no. J/38127) and was lost on H.M.S. Hampshire on 5th June 1916 aged 18. He is remembered on the Portsmouth Naval Memorial at Southsea.
---
Fifth Generation

Charles and Minnieís children were Phyllis (1923), Charles Ambrose (1924), Kenneth George (1927), and Beryl Marjorie (1931).
Phyllis married Richard Vickers, but never had children. She was always on hand, however, to help out with her nieces and nephews. She spent her early career as a book binder. The, after the family moved to Potters Bar, she would help out by cleaning and looking after the local school. Richard was a timid man, having suffered during the bombing of Kings Cross when he was returning from leave. He spent his working life working for ICI in Welwyn garden City. He was a an accomplished artist, musician and avid collector of models.
Charles never married. He left Exeter for London in 1937 where he attended the LCC school at Blackstock Road, Finsbury Park until he left school in 1938. He went to work for Brown Bros., who were Ironmongers in Stroud Green, N4. He stayed there until 1942 when he was called up for Military Service. He joined the Royal Armoured Corp and was posted overseas in 1944, joining the 6th Royal Tank Regiment in Italy. He served with them until demob in 1947.
Charlie started work at Hornsey Gas Co. and stayed with them from 1947-1961.
He moved to the house in Potters Bar in 1958. After leaving the Gas Co. Charlie joined the Post Office where he worked until early retirement. (1961-1986).
Ralph and Kathís children were Anthony, Eileen and Rita. We know little of them other than comments in Ralphís article where he proudly explains "My two daughters very active members as well. My eldest son did his National Service and is a Legion member."
Laura and Robís daughter Sheila married Anthony John Ellis. They live in Trowbridge and have two children.
We donít know anything of Richard, Clive, Michael, David, and Peter, Laura and Robís other children.
We donít know anything of Ronald and Bettyí s children.
Minnie and Jack Fitt had a son William. We have no further information regarding the family.
Richard and Mayís children were Jock and Patrick. We have no further information regarding them.
Fred and Violetís children were Betty, Carol and a son whose name we donít know. We have no further information regarding them.
Rosalind Ethel married Ray Hosgrove. They had two children Karen and Barry. Guess what, we donít know anything more about them, either.
---
Sixth Generation
By this time the family tree is getting quite large, so the sixth and subsequent generations I leave as an exercise to the reader.
Kenneth and Jean Taylor had three children Alyson (1952), Trevor (1955) and Craig (1957).
Beryl and Albert Brian had three children Diane (1953), Paul Ian (1955), and Denise Anne (1958).
Sheila and John Ellis had two children Paul (1966) and Leslie (1969).